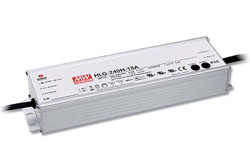 HLG-240H-C Series, 250W Harsh Environment Constant Current LED Drivers new to the Sunpower range; offer ultra high efficiencies whilst delivering high currents in challenging environments.
These 250W AC/DC led drivers deliver high output currents even at high output voltages; all models have universal 90-305VAC inputs, qualifying them for use with 277VAC American industrial mains supplies.  The 250W harsh environment constant current LED drivers operate with ultra-high efficiencies of up to 93%, while their active PFC function raises their power factor to 0.95. Large LED light arrays are supported by different models with constant current outputs from 700mA to 2100mA at corresponding voltages from 59VDC to 357VDC.
The constant current output on the IP65 rated model (HLG-240H-CA Series) can be adjusted via an internal potentiometer, while the IP67 version (HLG-240H-CB Series) offers a remote 3 in 1 dimming function; enabling a 1-10VDC, 10V PWM or resistance dimming signal to be connected via a cable to the power supply.
The HLG-240H-C Series has a number of reliability and safety features that equip it for environmentally demanding applications, With their high efficiency levels and full potting in heat conductive silicone, the products can operate from -40C to +50C at 110VAC input, or from -40C to +60C at 230VAC input; both these specifications apply without derating and with free air convection. Additionally, they are housed in aluminium cases rated to IP65 or IP67 moisture and dust ingress protection, and can withstand vibration to 5G.
4kV surge immunity protection is also provided as part of the design on these 250W harsh environment constant current LED drivers, as well as protection from short circuit, over voltage and over temperature. The units are certified to UL, CSA and ENEC EN safety standards, and have EMC emission and immunity compliance certification. These features allow operation both within buildings and outdoors – including harsh mobile and marine applications.