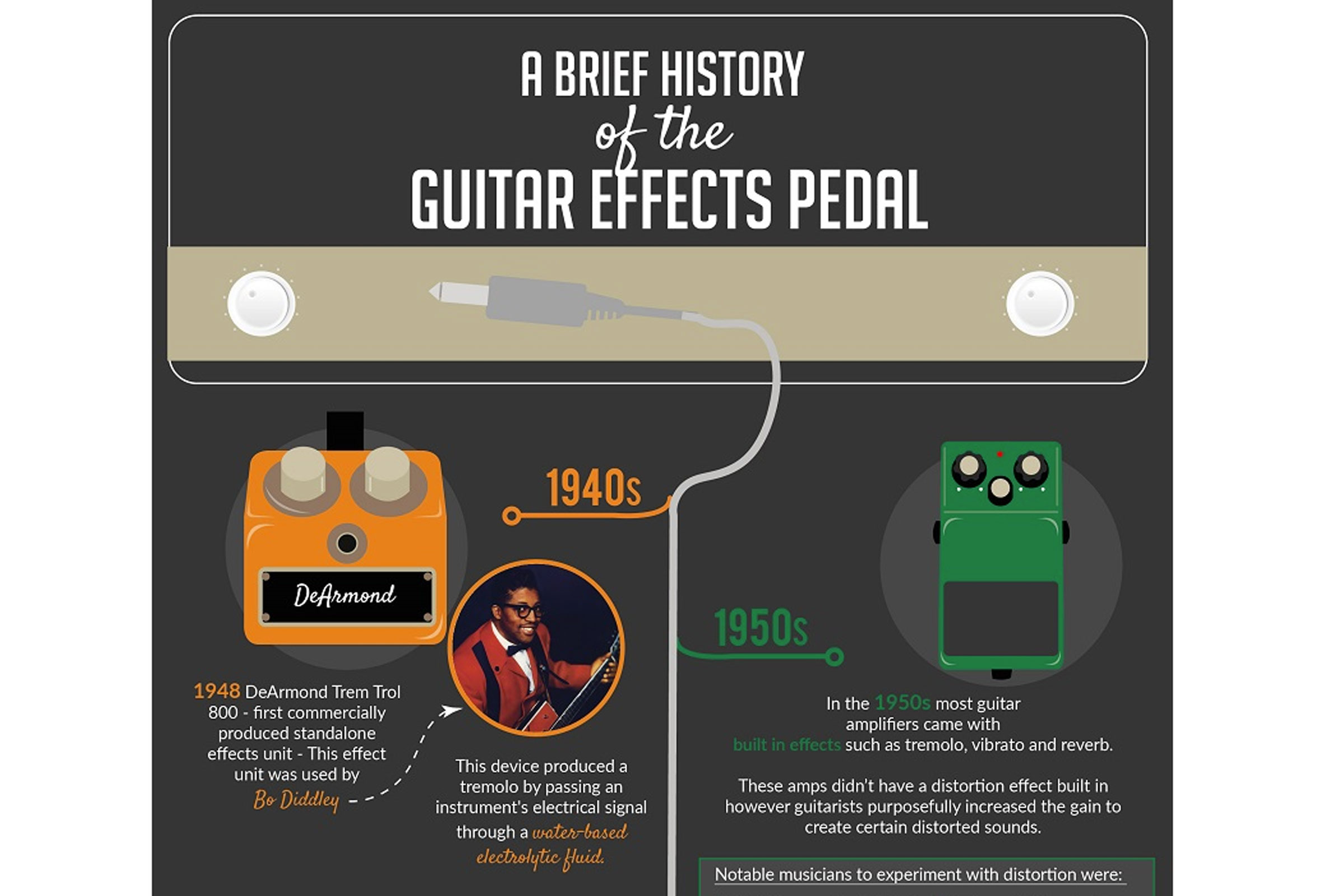 Share this Image On Your Site
1940s
1948 DeArmond Trem Trol 800 – first commercially produced standalone effects unit – This effect unit was used by Bo Diddley
This device produced a tremolo by passing an instrument's electrical signal through a water-based electrolytic fluid.
1950s
In the 1950s most guitar amplifiers came with built in effects such as tremolo, vibrato and reverb.
These amps didn't have a distortion effect built in however guitarists purposefully increased the gain to create certain distorted sounds.
Notable musicians to experiment with distortion were:
Willie Johnson of Howlin' Wolf
Goree Carter
Joe Hill Louis
The Kings of Rhythm, Ike Turner – Song: Rocket 88 – Cut his speakers to make a distorted effect.
Guitar Slim
Chuck Berry
Guitar pedals:
1958 WEM COPICAT Super IC-300 – delay and echo
1958 The DeArmond 610 – Jimmy Page on Brenda Lee's "Is It True"
1960s
1962 – The Ventures for their song "The 2000 Pound Bee". One of the first to use a homemade distortion fuzz box.
1962 – The first transistorized guitar effect was the 1962 Maestro Fuzz Tone pedal. This was the first distortion based pedal available to the public – Famously used by Keith Richards, Rolling Stones' Can't Get No Satisfaction
1967 Warwick Electronics started selling the first wah-wah pedal. Kelsey-Morris Sound's Jim Morris also made the first octave effect pedal in 1967 which was famously used by Jimi Hendrix.
1967 – Vox Cry Baby Wah-Wah – Used by Jimmy Hendrix "purple haze"
1967 – Honey Psychedelic Machine Vibra-Chorus
1968 Univox started selling the Uni-Vibe Pedal. A phase shift and chorus effects pedal used by both Jimi Hendrix and Robin Trower. Jimi Hendrix used it to record the guitar solos on "Purple Haze" and "Fire"
1969 – Univox U-250 Uni-Fuzz used by Pete Townshend solo in "Young Man Blues" Live at leeds
1970s
By the 1970s there were several new solid state effects pedals being sold to the public. These include: phase, ring modulators, chorus and flanger guitar effects pedals.
1972 – Mu-tron III envelope filter used by Jerry Garcia – https://www.youtube.com/watch?v=dXyFyS0-Ec4
1975 – Ap7 Jet Phaser combined fuzz and phaser with a fast / slow ramp switch – used by Larry Graham – https://www.youtube.com/watch?v=W-9gpjWVvh0
1975 – H910 Harmonizer pitchshifter – Eddie Van Halen and Frank Zappa
197x – Big Muff Pi Fuzz – Used by David Gilmour in Pink Floyd's Animals tour.
1978 – Boss DS-1 distortion pedal
1978 – A/DA Flanger – Eddie Van Halen's guitar on "Unchained"
1980s
1980s saw the rise of digitised rackmount units instead of the traditional stompboxes. These new digital effects units combined multiple pre-set effects within a single unit.
1982 – Boss SCC700 multi effects unit allowed 7 compact effects pedals to be controlled with one single switch press
1987 – Roland GP-8 comprising a dynamic filter (wah), compressor, overdrive, distortion, equalizer, digital delay and chorus. Used by Status Quo Francis Rossi
1990s
1990s digital guitar pedals continued to improve in quality and popularity.
After Nirvana's success guitarist Kurt Cobain re-sparked the interest in the lo-tech guitar effects pedals.
1991 – Digitech Whammy offering three different effect modes used by Rage Against The Machine's Tom Morello "Bullet in the Head"
1994 – Zoom 9002 – Light weight multi function pedal – signature models from Brian May, Richie Sambora and Tim Kelly.
1995 – Roland V-Guitar System VG-8
1995 – BOSS GT-5 a cheaper and more popular version of the VG-8
2000+
Beyond the year 2000 there were numerous popular effects pedals released.
2005 – Electro-Harmonix POG – Used by Jack White of the White Stripes
Ibanez TS808 Vintage Tube Screamer Reissue – Original used by Stevie Ray Vaughan
Blackstar HT-DISTX – Used by Opeth, Razorlight, The Donots, Rose Tattoo, Pat Travers bands
MXR EVH Eddie Van Halen Phase 90
2008 – Boss Super Chorus CH-1
Zoom 707
2001 Boss RC20 Loopstation
Sources:
http://www.angst.org.uk/
http://www.aux.tv/2014/08/a-brief-history-of-guitar-distortion/
http://www.ultimate-guitar.com/columns/the_history_of/accidents_and_screwdrivers_the_origin_of_distortion.html
https://en.wikipedia.org/wiki/Effects_unit
http://electronics.howstuffworks.com/gadgets/audio-music/guitar-pedal1.htm
http://www.vintagearchtop.com/dearmond_history.htm
http://www.vibrafuzz.com/history/
http://en.wikipedia.org/wiki/Mu-Tron_III
https://reverb.com/item/137708-roland-ap-7-jet-phaser
http://www.legendarytones.com/ada-flanger/
http://www.statusquo.co.uk/quo.htm
http://www.guitarworld.com/totally-gnarly-five-modern-effect-pedals-recreate-gritty-80s-sounds