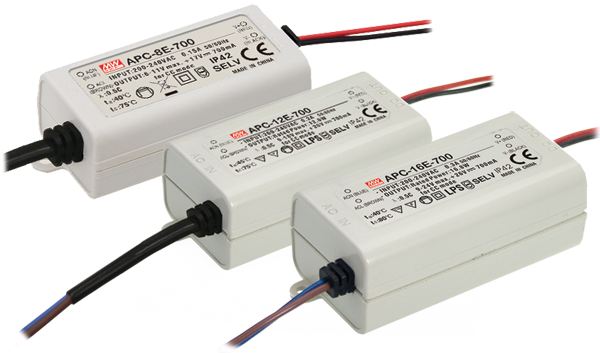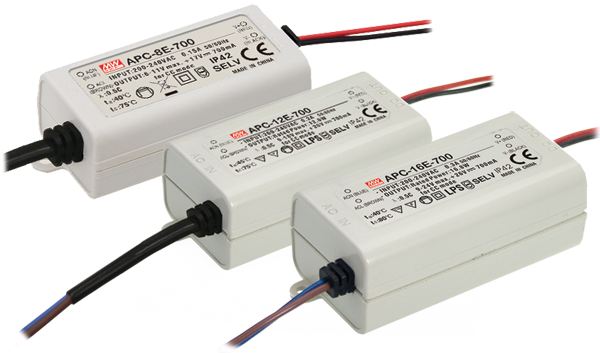 E Type APC and APV low wattage led power supplies now available from Sunpower. These 'E-type' versions of their existing Mean Well APV and APC series of economical, low wattage LED power supplies with high cost/performance ratios. The E-type products – APV-8E/12E/16E and APC-8E/12E/16E – have similar features to the existing APV and APC drivers, while also offering upgrades including an enhanced power factor, a reduced no-load power consumption of less than 0.5W, and a set-up time cut to below 500ms.
The APV and APC E-type ranges offer constant voltage and constant current mode drivers respectively. 8W, 12W and 16W power ratings are available, with a choice of DC voltage and current outputs. The original APV and APC range offers universal input, whereas the APV and APC E-type versions operate between 180-264V AC inputs.
The APV and APC original and E-type series are small and compact. Enclosed in fully isolated rectangular 94V-0 flame retardant plastic cases, these products are ideal for LED lighting in challenging environments, with high water and dust ingress protection ratings to IP42. With Class ll design and no FG pin, they also feature protection from short circuit, over current and over voltage conditions. The power supplies are 100% burn-in tested under full load, and highly reliable; reliability is further enhanced by free air convection cooling, which eliminates dependence on cooling fans.
All units offer two years' warranty. All are CE approved, with EMC certifications for both immunity and emission. Additionally ENEC EN61347 safety certification – which relates specifically to electronic control gear for lighting – is currently in progress, and expected to be in place by Q2 2016.
"With their compact size, attractive pricing and electrical ratings, these LED drivers are ideal for low wattage applications such as indoor LED lighting, decorative lighting and office lighting" comments Andy Wall, CEO of Sunpower UK, "Signage and other more demanding applications are also facilitated by their IP rating. Their LPS (Limited Power Source) certification assures easy and safe installation. Overall, they are great for entry-level LED lighting projects."