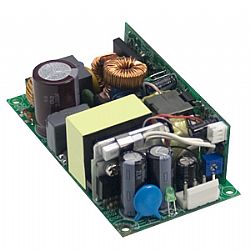 With the increase of energy costs, the energy-saving demands for electronic devices are more and more strict. In response to the low power consumption requirement for electronic end products, MEAN WELL have introduced AC/DC green open frame type power supply ~ EPP-100/150 series, 100W/150W miniature high efficiency power units with low power consumption. Along with the launched models of EPS-25(25W), EPS-35(35W), EPS-45(45W), EPS-65(65W) and EPP-300(300W).
Meanwell can now provide a brand-new complete green PCB type power solution from 25W to 300W to fulfill all kinds of miniaturized applications. Featuring a PCB structure, these two series' have extremely low "no load power consumption" (below 0.5W), which are designed to install directly into system chassis that don't need an enclosure.
With up-to-date high performance frequency switch design, EPP-100/150 series units possess up to 92.5% (EPP-100) and 93% (EPP-150) high efficiency. Hence, they can be cooled by free air convection from -30℃ to +50℃ ambient temperature with 75W (EPP-100) and 100W (EPP-150) output, even up to 100W (EPP-100) and 150W (EPP-150) by adding a 20CFM DC fan externally.
EPP-100/150 can also operate up to +70℃ by suitable derating that meets the requirements of closed environment with high temperature. Other standard functions include 12V/0.3A auxiliary output and short circuit; overload; over voltage and over temperature protections. These new power units comply with certificates per UL/CUL/TUV/CB/CE which can guarantee your safety. With extremely low "no-load power consumption".
Features
No load power consumption
4" x 2" compact size; high power density (EPP-100: 10.9W/in³, EPP-150:16.42W/in³)
High efficiency up to 93%
Universal AC input 90~264 VAC
Built-in active PFC function
12V/0.3A auxiliary output for external DC fan
Protection: Short circuit / Overload / Over voltage/ Over temperature
LED indicator for power on
Certificate: UL / CUL / TUV / CB / CE
Dimension(LxWxH): 101.6x 50.8x 29mm
Datasheets