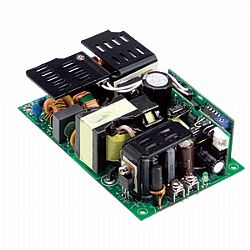 Sunpower are pleased to announce the release of the EPP-300 series, offering 300 Watts of power in an open frame power supply with PFC function. The EPP-300 series possess up to 93% of high efficiency and can provide 200W continuously up to 50 °C by free air convection (300W with a 20.5CFM forced air) or can operate up to 70 °C by suitable power derating.
Standard functions of the series include built-in active PFC function, P.G/P.F signal output, built-in remote sense, 12V/0.5A auxiliary output and can withstand 300VAC input surge immunity for 5 seconds therefore reducing the damage caused by an unstable AC main. The series also offer protections for short circuit, overload, over voltage and over temperature.
Suitable for IT systems, industrial machinery and electrical equipment.
Datasheets