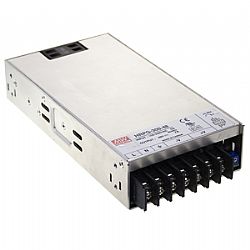 To add to our energy saving, low energy consumption products Sunpower introduce two new 300W models, HRP-300 and HRPG-300, miniature high performance enclosed power supply ranges.
HRP-300 and HRPG-300 are designed to fit 1U low profile rack chassis or any other space limited application. With universal 85 ~ 264VAC input and featuring high operating efficiency & energy saving functionality these units are part of our most high-end enclosed power supply series'. Possessing up to 89% of high efficiency they can be cooled by the built-in long life DC fan and have operating temperatures from -30C to +50C ambient, under full load condition, up to +70C with a slightly derated output load.
HRP-300 & HRPG-300 Series
The built in active PFC function fulfils the requirements of EN61000-3-2 for harmonic current, HRP(G)-300 are also equipped with 300VAC input surge immunity, for 5 seconds, to reduce the damage caused by an unstable AC mains and remote sense function which fixes up to 0.5V of voltage drop, to compensate for wiring voltage drops.
Other standard features for both HRP-300 & HRPG-300 include short circuit, over load (constant current mode), over voltage and over temperature protections. Both HRP-300 & HRPG-300 comply with the requirements of, and are certified to UL, cUL, TUV, CB & CE.
To assist the development of energy efficient end user applications the HRPG-300 models meet the requirements of Energy Star and EuP norms; we offer the HRPG-300 models with additional remote ON/OFF control and 5V/0.3A standby output voltage and the units achieve no load power consumption <0.5W. Suitable applications of HRP-300 and HRPG-300 are general electronic applications, factory automation, LED moving signs, test and measurement equipment, and all environments that require low no load power consumption. For more detailed information please refer to the full specifications below or call a member of our sales team to discuss your requirements on +44 (0)118 981 1001.
Datasheets