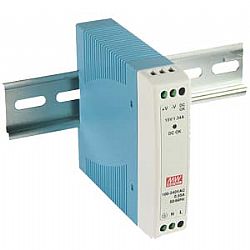 To satisfy the growing demand of low wattage Din Rail applications a new slim Din Rail switching power supply, MDR-10 Series has been launched. This 10W miniature din rail power supply series are enclosed Class I fully isolated plastic cased to prevent the risk from hazardous shock.
MDR-10 Series
With a width of 22.5mm the MDR-10 models comply with the slim trend and growing space saving demands of the industrial rail industry. Featuring efficiency up to 85% this series is capabile of being cooled by only free air convection up to temperatures of 70°C ensuring this is a reliable and long life product for any application. Other features of the MDR-10 series include the normal protections, low no load power consumption and DC OK signal.
Applications for the MDR-10 Series vary from factory automation, process control, signal sensor and electro mechanical industries through to data communication and IT applications.
Datasheets