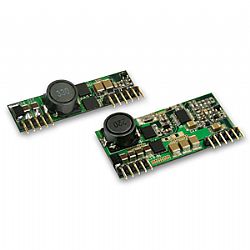 Sunpower have introduced NID30(30W) and NID60(60W) series, a new style of single output Input / Output Non-isolated DC-DC converter. These regulated converters have standard SIP (Single-In-Line Package) pin configuration and are vertically mounted on the main system PCB, this teamed with their miniture design (size of NID30: 50.8 x 13 x 10.7mm; size of NID60: 50.8 x 26 x 10.7mm) makes them suitable for size constraint applications where the layout space of system PCB is limited.
NID30 & NID60 Series
Using Bulk topology with synchronized rectifying technology, NID30/60 posses up to 97% of high efficiency and 69.6W/in3 of extreme high power density, and therefore can be cooled using only free air convection from -25°C ~ 65°C. The units have a wide input range of 2:1~3:1. The input DC voltage range is 20(30)~53V which covers the popular DC BUS voltage of 24V and 48V, whilst the output voltages are 5V / 12V / 15V / 24V. Other features include low ripple noise, low cost, and protection for short circuit, overload, and over voltage.
Suitable application fields for the economical NID30 and NID60 series are distributed power architecture, communications and industrial controls.
For more detailed information please refer to the full specifications below or call a member of our sales team to discuss your requirements on +44 (0)118 981 1001.
Datasheets