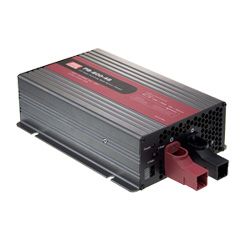 A new addition to our Battery Charger section, PB-600 Series, 600W intelligent AC-DC battery chargers for lead acid battery charging. With user selectable 2 stage/8 stage charging characteristics these intelligent chargers are controlled by microprocessor ensuring your battery is quickly and efficiently charged, or using the 8 stage charging curve, storing more energy into the battery banks. For newer rechargeable batteries, such as lithium-ion (LiFeP04, LiMn02) batteries the charging curve can be easily modified to fit in with their characteristics.
PB-600 Series
To help extend the lifetime of batteries, and reduce the need for maintenance PB-600 has a built-in temperature compensation circuit ensuring the output voltage is adjusted in accordance with the temperature of the batteries. Featuring built-in active PFC function, PB-600 complies with the harmonic requirements of EN61000-3-2. Other standard functions and features include IEC320-C14 – 3 pole AC inlet, power ON/OFF switch with light indicator, remote ON/OD control, fan ON/OFF control and reverse polarity, short circuit, over voltage and over temperature protections.
Suitable applications for PB-600 include electric motorbikes, solar power systems, security systems, UPS systems, electric wheelchairs, leisure vehicles and marine applications that may use rechargeable batteries as the power source or back-up system.
For more detailed information please refer to the full specifications below or call a member of our sales team to discuss your requirements on +44 (0)118 981 1001.
Datasheets