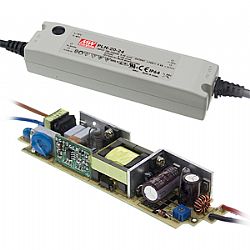 With increasing requirements for low wattage LED lighting fixtures, LED lighting and decorative lighting Sunpower have added two new series of LED lighting power supplies to their range – PLN-20 Series and PLP-20 Series.
With wide range 90~277VAC input, active PFC function and high efficiency levels these LED lighting power supplies have been designed to operate economically at low wattage levels and offer cost savings on higher wattage options. The isolated plastic enclosure mechanical design of PLN-20 can meet IP64 waterproof/dustproof levels and creates overall dimensions of 147x 37x 28mm. With the encasing elements removed, to reveal the miniature PCB design, PLP-20 series offers the same technical specifications but with no IP levels therefore it offers an additional cost saving on mechanical parts and smaller foot print of 140x 32x 22mm.
PLN-20 Series & PLP-20 Series
To meet lighting fixtures general requirements and lighting power factor requirements both series are designed with a simplified single stage PFC topology built-in, so that they can achieve the required high power factor requirement of PF>0.9 economically and comply with EN61000-3-2 Class C, so output loading is higher than 75%.
The efficiency of both PLN-20 & PLP-20 Series is as high as 83.5% and operating temperatures at full load can be between -30C and +60C using only free air convection. Through adjustment of the built in potential meter the output current level of the power supply can be fine tuned between 75~100% rated value, increasing the flexibility in system design. Other standard functions include short circuit, over load, over voltage and over temperature protections. In addition the power supplies are equipped with 18AWG/30cm of input/output cable to allow users a flexible installation in various systems. Both series comply with global certificates per TUV / UL / CUL / CE, including major lighting regulations such as UL8750, EN61347-1 and EN61347-2-13.
For more detailed information please refer to the full specifications below or call a member of our sales team to discuss your requirements on +44 (0)845 533 1001.
Datasheets