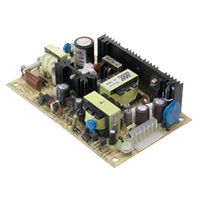 To add to the low wattage range of open frame DC-DC Converters, PSD-45 Series has been released. The 127 x 76mm open frame miniature design reduces costs, solves space problems and potentially helps to reduce the end system volume; making it ideal for economical installation into end user systems.
PSD-45 Series
PSD-45 Series possesses up to 86% of operation efficiency and can be operated in ambient temperature conditions of -10C to +60C using only free air convection. Featuring 2:1 wide DC input range, PSD-45 securely transfers a wide range of DC input voltage ratings into a stable DC output. Other standard features include 1500VAC input/output isolation, potential meter for ±10% of Vo adjustment, CB/CE certificates and protections for short circuit, over load, over voltage, and reverse polarity. Suitable applications for these small gadgets include industrial controls, telecommunications, voltage-regulating, and vehicle back-up systems that use batteries as the power source.
For more detailed information please refer to the full specifications below or call a member of our sales team to discuss your requirements on +44 (0)118 981 1001.
Datasheets
PSD-45A Series Specification
PSD-45B Series Specification
PSD-45C Series Specification