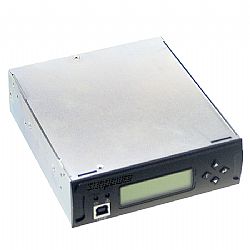 Sunpower introduce the RKP-CMU1, a single control and monitor unit with 1U low profile design which can monitor up to 32 units of the RCP-2000 series. The unit will display the following information about each power supply on the LCD front panel; output voltage, output current, internal temperature, operation status for each unit, series number and filmware version.
RKP-CMU1 Rack Control Unit
Using the RKP-CMU1 buttons on the LCD front panel connected modules can be turned ON/OFF and output voltage can be trimmed. The RKP-CMU1 is equipped with USB, RS-232, Ethernet interfaces for PC connection and can identify remote warning via external GSM modem.
For more detailed information please refer to the full specifications below or call a member of our sales team to discuss your requirements on +44 (0)845 533 1001.
Datasheets