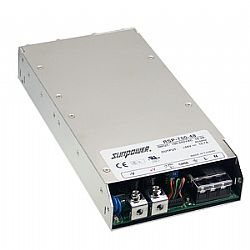 Sunpower are pleased to announce the release of the RSP-750 Series, a 750W 1U low profile enclosed power supply. Offering 9.44W/in3 of high power density and a wide range trimming function, both output voltage and current can be adjusted from 40~110% rated output voltage by addng 2~5.5VDC of external control voltage.
Standard functions include built-in active PFC function, remote ON/OFF control and remote sense, DC OK signal output and forced air cooling by built-in DC fan. The RSP-750 series have protections including short circuit, overload, over voltage, over temperature and fan alarm.
The RSP-750 series are suitable for industrial equipment which have limited space for installation, other suitable applications include IC testing equipment, instrumentation, telecom, data storage, laser-carving machines and charging systems.
Datasheets