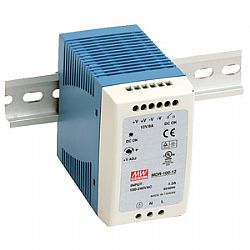 The new SD-500 Series, 500W enclosed DC-DC converter, adds to the existing SD product line and increases the available range of wattage to a higher level for the growing demand in applications for DC-DC converters. With 4:1 & 2:1 wide input range, 2000VAC input/output isolation and 2 DC input levels offering 3 DC output voltages SD-500 gives the end user 6 units to select from.
SD-500 Series has the built-in safety features you would usually expect including short circuit, over load, over voltage, over temperature and input polarity protections. The same size as its 350W sibling SD-500 is suitable for general electrical engineering usage, automotive and battery back-up applications where a compact DC/DC power solution is required.
For more detailed information please refer to the specifications or call a member of our sales team to discuss your requirements on +44 (0)118 981 1001.
Datasheets
SD-500L – 24VDC Input 500W DC/DC Converter
SD-500H – 96VDC Input 500W DC-DC Converter