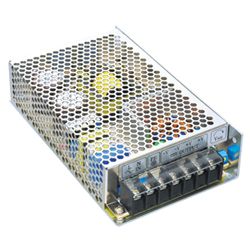 New to our DC-DC Converters range are two DC to DC Series, SDS-100L & SDS-100M. These 100W DC-DC Converters are suitable for battery applications offering features such as 4:1 input range, input/output isolation and wide operating temperatures from -20C to +70C.
Up to 20% smaller than previous 100W models the new SDS-100L & SDS-100M offer wide input voltage ranges of 9.5V to 36V (SDS-100L) and 19V to 72V (SDS-100M) with output voltages of 5V, 12V, 24V, 36V & 48V, all of which are adjustable by +/-10%.
SDS-100L & SDS-100M Series DC-DC Converters
Standard features for these new DC-DC Converters include input protection, input and output isolation, input reverse polarity protection, inrush current limitation soft start function and over voltage, over load and short circuit protections. These units also comply to UL, cUL, TUV EN60950-1:2006 and CB standards and are certified to CE directive conformity (LVD 2006/95/EC and EMS 2004/108/EC).
Suitable for battery applications requiring 12V and 48V input (SDS-100L) or 24V and 48V input (SDS-100M) these DC-DC Converters can be used for a variety of applications.
For more detailed information please refer to the full specifications below or call a member of our sales team to discuss your requirements on +44 (0)118 981 1001.
Datasheets