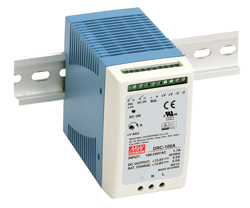 DIN rail mounting power supplies with UPS capability are becoming increasingly popular within the security industry and other sectors where critical equipment must continue operation during a brief mains failure. We have been meeting this need with their DRC-40 and DRC-60 Series, which have been receiving outstanding market feedback and highly positive customer evaluation since their launch.  The addition of DRC-100 Series DIN rail UPS power supply extends this family and introduces a higher power unit.
DRC-100 Series DIN UPS Power Supply delivers similar functionality to its predecessors but with an output power rating elevated to 100W. The new Series comprises of two models with different output voltage levels. Both units are highly reliable and can be assembled onto TS35/7.5 or TS35/15 DIN rails within an industrial cabinet.  The units both have universal inputs which accept 90 – 264VAC or 127 – 370VDC.
The DRC-100A has two 13.8V outputs, and DRC-100B delivers 27.6V from the 2 outputs. These are ideal for 12V and 24V batteries respectively. With efficiencies up to 89%, both models feature a fanless design with cooling by free air convection and a wide operating temperature range of -30 to +70°C. Protection functions include overload, over-voltage, battery low cut off and fused battery reverse polarity safeguard; the units also have relay contact alarm signals for AC OK and battery low. An LED indicator shows Power On status.
An external 12V or 24V battery can be connected to the secondary output contacts provided on the DRC-100 Series power supplies. During normal operation with AC mains present, the power supplies rectify and filter the incoming AC to supply DC power to the load and charge the battery. During a mains failure, the battery ensures continued power to the load until it is discharged or mains power is restored. The battery charger floats on the rectifier's DC output; this ensures seamless transfers between rectified mains and battery supplies, and uninterrupted power to the load.