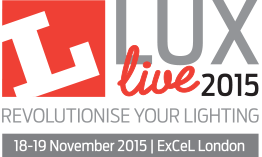 Sunpower to exhibit at LUXLive 2015; Europe's biggest annual lighting event again this year; we will be highlighting our LED Dimming, control and emergency products along with a large selection of LED Drivers from Mean Well and our own PowerLED branded drivers and controllers.
We will be showing a selection from our Mean Well LED drivers which include constant-current and constant voltage IP64, IP65, IP66 and IP67 rated devices for indoor and outdoor applications, some with 1-10VDC, resistance, PWM or 'Three in one' dimming functions. Ratings from 8W to 600W are available, offering compliance to worldwide safety regulations for lighting.
Our PowerLED range will include the new versions of the vastly popular PCV60 and PCV100 models for indoor LED lighting applications. The new models feature low inrush current, making them ideal for applications with older or sensitive AC circuits, greatly reducing the problem of nuisance tripping. Power factor is also improved, boosting the products' high energy efficiency. The range now includes 150W models as well as the established 60W and 100W range.
Sunpower to exhibit at LUXLive 2015 drivers with TRIAC dimming capabilities; we have the PCCXXW-TD Series of constant current single output drivers for indoor use and direct mounting on normally flammable surfaces. We will also show our Constant Voltage PCVXXXXTD fully isolated drivers, featuring leading and trailing edge TRIAC dimming and fire-resistant plastic covers.
For installers wishing to extend their usability, application and coverage of LED tape, we will be showing our internally-developed PowerLED LED Controllers and LED Repeater to support the LED Driver and LED Flexi Strip Light ranges. The LED Repeater extends the length of LED strips that can be run from one LED driver to up to 15 metres. The LED Controller manages the colour changing brightness and shading of RGB tapes; it can control three colour channels independently and can also manage dimming of single-colour LED tapes.
For emergency lighting, we will be showing our PowerLED EMPACK2, EMPACK2T, EP3 and EP10 products. EMPACK2 is a 2W constant current non-maintained emergency light system providing 3 hours' emergency lighting when fully charged. EMPACK2, which is suitable for commercial and retail lighting applications, includes a power supply, battery pack, 300 mm connecting wire and one LED lamp. EMPACK2T has the same components while being designed for use with LUM02 ceiling LED light tiles. EP3 and EP10 are 3W and 10W non-maintained LED light emergency kits that convert a wide range of LED luminaires to emergency versions & will be on display in functioning mode.
Come visit Sunpower's exhibit at LUXLive 2015 on Stand N52 to discuss your ideas, applications and questions with our knowledgeable sales and support staff. You will also have the opportunity to see our LED dimming, control and emergency lighting products as mentioned above.
To browse our vast range of LED Drivers click here or alternatively view our constant current drivers, constant voltage drivers or dimmable driver product sections